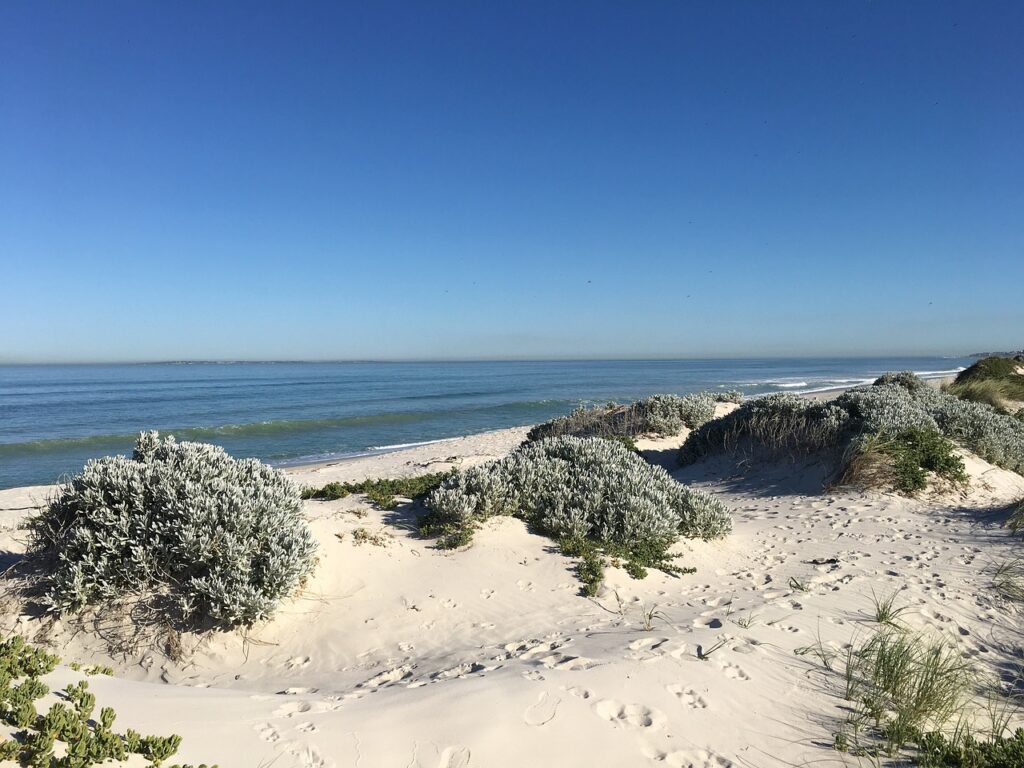 Bloubergstrand, which is not far from Cape Town and is located on the shores of Table Bay, is home to some of the most well-known vistas of Table Mountain. Bloubergstrand is a popular vacation spot for both locals and tourists because of its expansive, sandy beach, clear waters, and unobstructed views of the spectacular mountain. Join us as we discover Bloubergstrand's attraction and charm. Here, you may take in the natural beauty of the shoreline while taking in Table Mountain's majestic backdrop.
Panoramic Views of Table Mountain: Bloubergstrand offers unparalleled views of Table Mountain, providing a picture-perfect backdrop that is both breathtaking and unforgettable. From the beach, witness the mountain's towering presence as it looms in the distance, creating a stunning contrast against the wide expanse of sand and sea. Capture the iconic postcard-worthy shot that showcases Table Mountain in all its glory.
Kiteboarding and Watersports: Bloubergstrand is renowned as a premier destination for kiteboarding and other watersports. The strong winds and consistent swells make it a paradise for thrill-seekers and water enthusiasts. Whether you're an experienced kiteboarder or eager to try your hand at a new watersport, Bloubergstrand offers ideal conditions and numerous rental shops and schools to cater to all skill levels.
Long Sandy Beaches: Bloubergstrand boasts long stretches of sandy beaches, perfect for leisurely walks, sunbathing, or beach games. Take off your shoes, feel the soft sand between your toes, and enjoy a barefoot stroll along the shoreline. The expansive beach invites you to relax, unwind, and soak up the tranquil atmosphere while enjoying the breathtaking views of Table Mountain.
Sunset Splendor: Bloubergstrand is renowned for its spectacular sunsets, transforming the sky into a palette of vibrant colors. As the sun descends behind Table Mountain, the beach becomes a haven for photographers, nature lovers, and romantics alike. Witness the golden hour unfold, casting a warm glow over the beach and mountain, creating a truly magical and unforgettable experience.
Beachfront Cafés and Restaurants: After a day of exploring and taking in the beauty of Bloubergstrand, head to one of the beachfront cafés or restaurants that line the coastline. Enjoy a refreshing beverage or savor a delicious meal while relishing the incredible views. Whether you're in the mood for a casual beachside snack or a fine dining experience, Bloubergstrand offers a variety of options to satisfy any palate.
Coastal Walks and Hiking Trails: Bloubergstrand is an excellent starting point for coastal walks and hiking adventures. Embark on a leisurely stroll along the Bloubergstrand promenade, breathing in the fresh ocean air and enjoying the invigorating coastal scenery. For more adventurous hikers, the nearby Koeberg Nature Reserve offers scenic trails and the opportunity to explore the fynbos-rich landscapes of the Western Cape.
Conclusion:
Bloubergstrand beckons with its breathtaking views of Table Mountain, offering a captivating blend of natural beauty and outdoor adventure. Whether you're seeking iconic views for photography, looking to indulge in watersports, or simply wanting to unwind on the sandy beaches, Bloubergstrand has it all. Immerse yourself in the splendor of Table Mountain's backdrop and let the charm of Bloubergstrand captivate your senses.