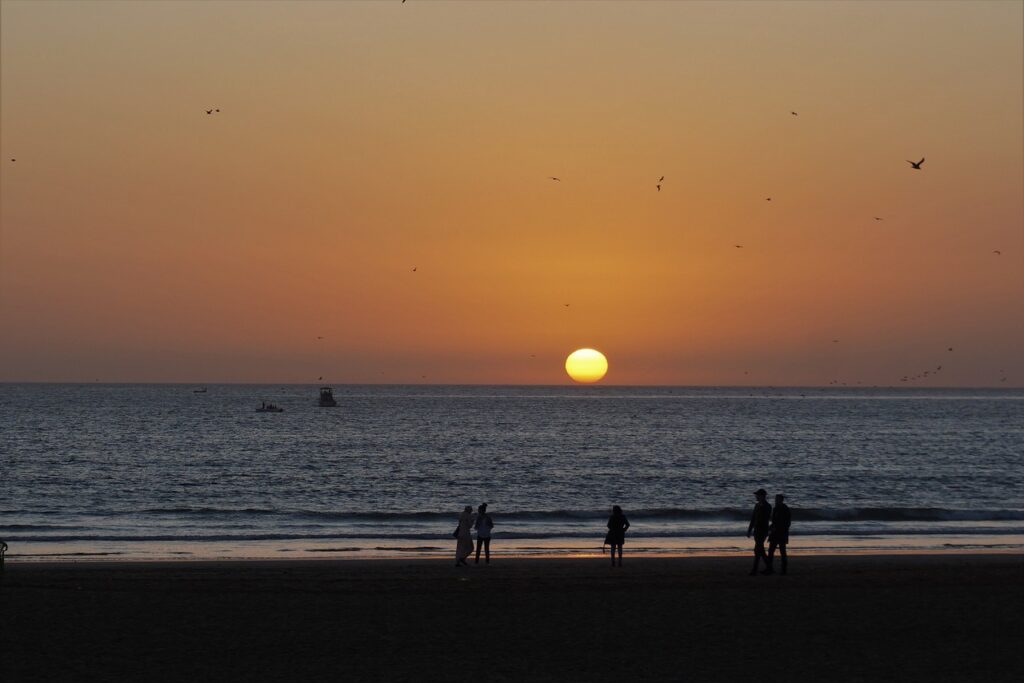 With its sun-kissed shoreline, colorful culture, and breathtaking landscapes, Agadir, which is located along Morocco's stunning Atlantic coastline, entices beachgoers and those looking for adventure. This seaside jewel offers the ideal fusion of leisure, aquatic activities, and cultural exploration. Join us as we go to Agadir's seaside splendors, where emerald waters, golden sands, and friendly people await.
Agadir Beach: Paradise Found: Start your coastal adventure at Agadir's main attraction—the pristine Agadir Beach. With its expansive stretch of golden sand and crystal-clear waters, this beach offers an idyllic setting for sunbathing, leisurely strolls, and breathtaking sunsets. Unwind on a beach lounger, take a dip in the refreshing ocean, or simply bask in the beauty of your surroundings.
Water Sports Galore: Agadir is a haven for water sports enthusiasts. Embrace the thrill of surfing on the Atlantic waves, try your hand at windsurfing or kitesurfing, or embark on an exhilarating jet ski adventure. Whether you're a beginner or an experienced water sports enthusiast, Agadir's coastline offers endless opportunities for adrenaline-pumping fun.
Paradise Valley: Nature's Oasis: Escape the coastal buzz and venture inland to discover the natural wonder of Paradise Valley. Surrounded by towering cliffs and lush greenery, this hidden gem is a series of stunning rock pools and waterfalls. Take a refreshing swim in the crystal-clear pools, hike along the scenic trails, and immerse yourself in the tranquility of this oasis.
Souk El Had: A Shopper's Delight: Indulge in a cultural shopping experience at Souk El Had, Agadir's bustling market. This vibrant souk offers a feast for the senses, with its maze of stalls selling traditional handicrafts, spices, textiles, and Moroccan treasures. Bargain with local vendors, savor the aroma of exotic spices, and immerse yourself in the vibrant atmosphere.
Kasbah of Agadir: A Historical Gem: Explore Agadir's history and soak in panoramic views from the Kasbah of Agadir. This hilltop fortress offers a glimpse into the city's past, with its ruins standing as a reminder of the devastating earthquake that struck in 1960. Climb to the top and admire the breathtaking vistas of Agadir's coastline and the bustling city below.
Traditional Moroccan Cuisine: Savor the flavors of Morocco at Agadir's delightful restaurants and cafes. Treat your taste buds to mouthwatering tagines, aromatic couscous, and delectable seafood dishes. Don't miss the opportunity to try traditional Moroccan mint tea, a refreshing and aromatic beverage that perfectly complements the culinary delights.
Coastal Excursions: Essaouira and Taghazout: Embark on a day trip from Agadir to explore the nearby coastal towns of Essaouira and Taghazout. Essaouira is a charming UNESCO-listed town renowned for its whitewashed buildings, bustling medina, and vibrant art scene. Taghazout, on the other hand, is a haven for surfers, offering world-class waves and a laid-back beach town atmosphere.
Agadir Marina: Dining and Entertainment: Experience the vibrant atmosphere of Agadir Marina, where you can dine in style and enjoy lively entertainment. Indulge in a delicious meal at one of the waterfront restaurants, stroll along the promenade, and soak in the bustling ambiance. As the sun sets, the marina comes alive with live music, dance performances, and a vibrant nightlife scene.
Conclusion:
Agadir, with its captivating coastline and vibrant cultural scene, offers a delightful blend of relaxation, adventure, and cultural exploration. From its sun-drenched beaches to its rich history and culinary delights, this coastal gem leaves a lasting impression on every traveler. Embark on a journey to Agadir, and let the coastal splendors weave their magic on your soul.