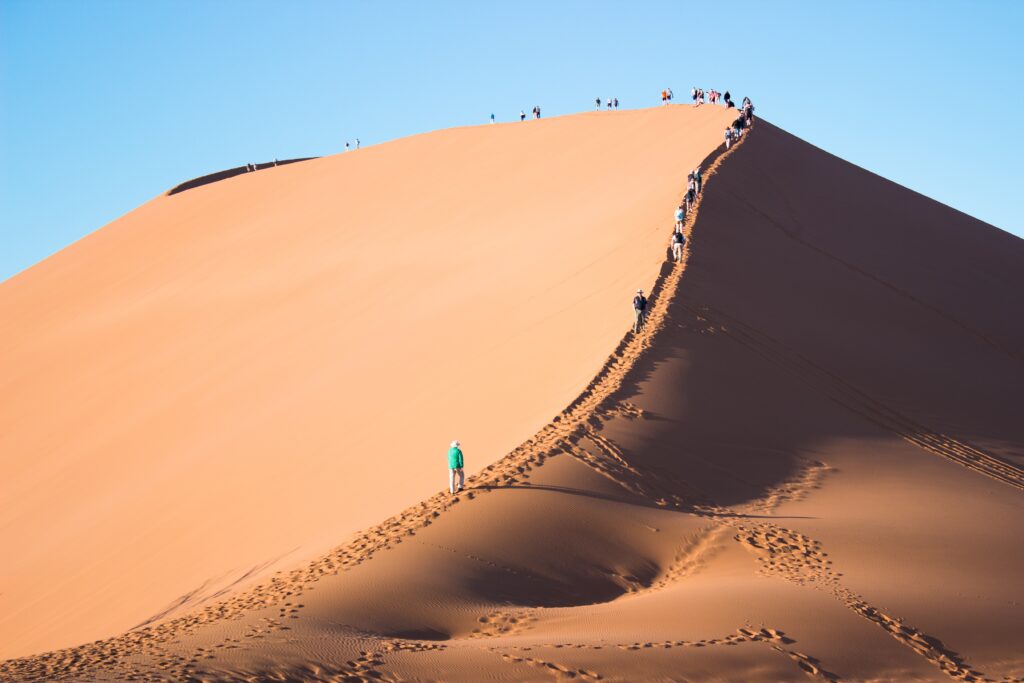 Serra Cafema is an exclusive and remote lodge located in the stunning Kaokoland region of Namibia, offering guests a truly unique and unforgettable safari experience. This luxury lodge is set in a spectacular landscape of towering sand dunes, rugged mountains, and crystal-clear rivers, and is the perfect base for exploring the wilderness and culture of this stunning region.
The lodge itself is designed in a traditional African style, with luxurious accommodations that blend seamlessly into the surrounding landscape. Guests can choose from a range of stylish rooms and suites, each with their own private veranda offering breathtaking views of the stunning scenery. The lodge also features a range of communal areas, including a lounge, bar, and dining room, where guests can relax and enjoy delicious meals and refreshing drinks.
One of the highlights of staying at Serra Cafema is the range of activities and excursions on offer. The lodge is located on the banks of the Kunene River, one of the few permanent water sources in the region, and guests can enjoy a range of water-based activities such as boating and fishing. The surrounding landscape is also ideal for hiking, with a variety of trails that offer stunning views of the sand dunes, mountains, and river valleys.
Serra Cafema is also known for its excellent wildlife viewing opportunities. The region is home to a variety of unique and rare species, including desert-adapted elephants, giraffes, and lions. Guests can embark on guided game drives and nature walks, where they can see these magnificent creatures up close and learn about the complex ecology of the region.
The lodge also offers a range of cultural experiences, allowing guests to learn about the traditional lifestyles of the Himba people, one of the last remaining semi-nomadic tribes in Africa. Guests can visit local villages and learn about the customs and traditions of these fascinating people, including their distinctive hairstyles, jewelry, and clothing.
Despite its remote location, Serra Cafema is renowned for its exceptional level of service and attention to detail. The lodge's expert guides and staff are dedicated to ensuring that guests have an unforgettable and enriching experience, whether it's exploring the wilderness, learning about local cultures, or simply relaxing and enjoying the natural beauty of this remarkable region.
Serra Cafema is truly a one-of-a-kind destination that offers guests a chance to experience the raw beauty and cultural richness of Namibia in style and comfort. Whether you're an experienced safari-goer or a first-time visitor to Africa, this exclusive lodge is sure to leave you with memories that will last a lifetime.