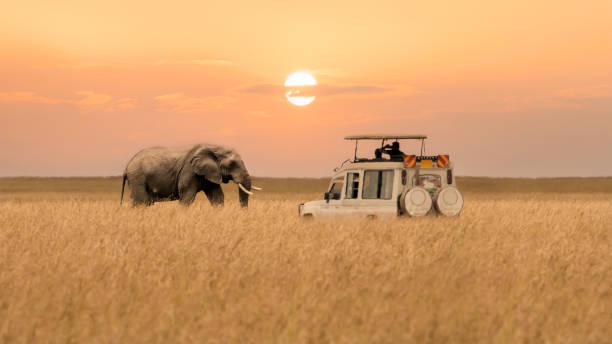 Introduction:
Africa's untamed wilderness, teeming with iconic wildlife and breathtaking landscapes, has long been a draw for adventurers and nature enthusiasts. However, for those seeking an extraordinary and opulent experience, luxury African safaris offer a once-in-a-lifetime journey into the heart of the continent's wild beauty. In this blog, we'll explore what makes luxury safaris so special and share some of the most indulgent and awe-inspiring destinations for those who desire to experience the wild in style.
1. The Essence of Luxury Safaris:
Luxury safaris elevate the traditional wildlife adventure into an unparalleled experience of comfort, exclusivity, and personalized service. From sumptuous accommodations to gourmet dining and private guided experiences, these safaris offer the perfect blend of opulence and immersion in nature.
2. South Luangwa National Park, Zambia:
Timeless Elegance in the Bush
South Luangwa National Park in Zambia is known for its unspoiled wilderness and abundant wildlife. Luxury lodges here provide lavish accommodations, private game drives, and guided walking safaris. Spend your evenings under the African sky, indulging in gourmet cuisine and fine wines.
3. Singita Grumeti Reserves, Tanzania:
Conservation Meets Luxury
The Singita Grumeti Reserves in Tanzania are a pristine expanse of wilderness where luxury and conservation converge. Stay in lavish lodges and enjoy exceptional game viewing experiences in the heart of the Serengeti, while supporting critical conservation efforts.
4. Sabi Sand Game Reserve, South Africa:
Exclusivity in the Wild
Sabi Sand Game Reserve, adjacent to South Africa's Kruger National Park, offers a range of opulent lodges. Here, you can enjoy game drives and bush walks led by expert guides and trackers, followed by gourmet dining and stargazing in the evenings.
5. Okavango Delta, Botswana:
Waterworld of Luxury
The Okavango Delta in Botswana is a unique oasis of waterways, wetlands, and islands. Luxury safari camps here offer guests exclusive access to this pristine wilderness. Explore the delta's intricate channels by mokoro (dugout canoe), take in stunning wildlife sightings, and relax in lavish accommodations.
6. Maasai Mara, Kenya:
Front-Row Seats to the Great Migration
Kenya's Maasai Mara is famous for the Great Migration, a spectacle that draws travelers from around the world. Luxury lodges and tented camps on private conservancies offer unrivaled views of this natural phenomenon, along with gourmet dining and spa treatments.
7. Victoria Falls, Zimbabwe:
Romantic Luxury by the Falls
Victoria Falls is one of Africa's most iconic natural wonders. Stay in opulent lodges along the Zambezi River and enjoy exclusive activities like helicopter flights over the falls, private game drives, and sunset cruises, making it a perfect destination for honeymooners.
8. NamibRand Nature Reserve, Namibia:
Stargazing and Serenity
Namibia's NamibRand Nature Reserve is a vast expanse of desert and dunes. Stay in luxury desert lodges where you can explore the tranquil landscapes, embark on guided dune walks, and indulge in stargazing experiences that showcase the pristine night skies.
Conclusion:
Luxury African safaris offer a unique opportunity to connect with the wild in style, comfort, and exclusivity. These extraordinary experiences allow travelers to immerse themselves in Africa's untamed beauty while enjoying the finer things in life. Whether it's tracking the Big Five, witnessing the Great Migration, or stargazing in the desert, luxury safaris are designed to create unforgettable memories and moments of awe in the heart of the continent's wilderness.