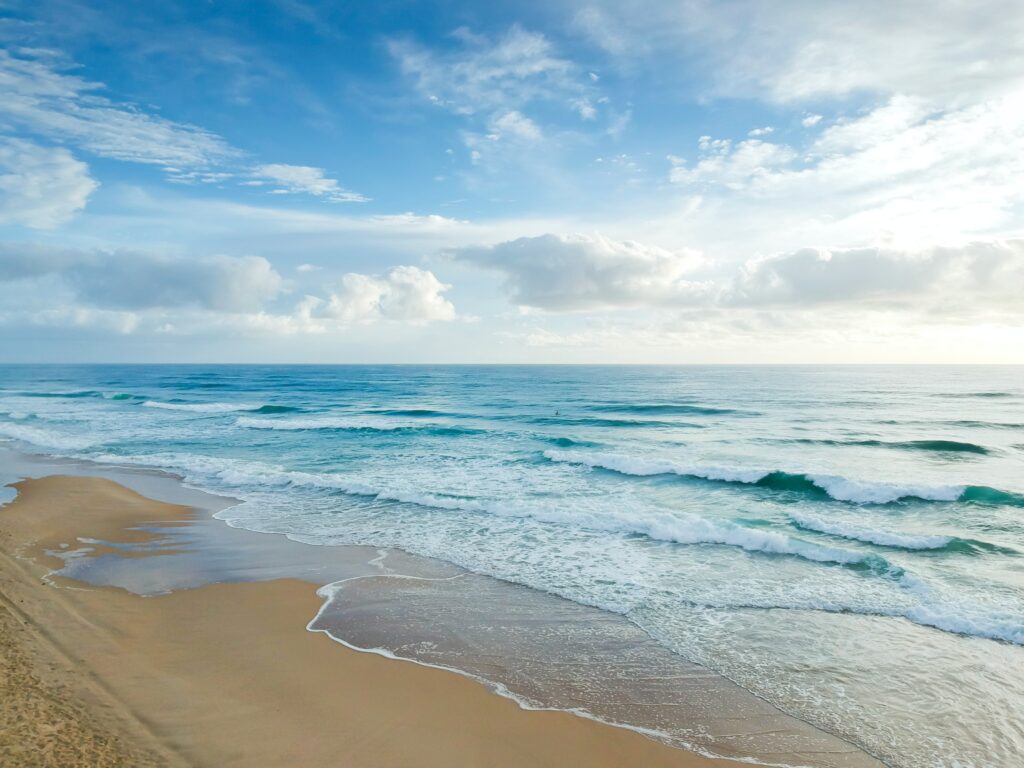 Camps Bay Beach is a genuine jewel on Cape Town's Atlantic Seaboard, tucked away beneath the spectacular Twelve Apostles mountain range and overlooking the glistening Atlantic Ocean. Camps Bay Beach is renowned for its amazing natural beauty, trendy ambiance, and busy beachfront and offers a seductive fusion of entertainment, relaxation, and breathtaking views. Join us as we discover Camps Bay Beach's attraction, a place where beauty and seaside sophistication collide.
A Beach of Pure Beauty: Camps Bay Beach presents a picturesque postcard-like setting with its soft, golden sands, azure waters, and the backdrop of the rugged Twelve Apostles mountain range. As you step onto the beach, be prepared to be captivated by the breathtaking panoramic views that unfold before you.
Trendy Beachfront Strip: Adjacent to the beach lies a vibrant and trendy beachfront strip. This cosmopolitan hub is dotted with trendy restaurants, chic cafes, and stylish bars, creating a lively atmosphere that buzzes day and night. Indulge in a delicious meal, sip a refreshing cocktail, or simply enjoy people-watching from one of the beachfront establishments.
Sun and Sea: Bask in the warm African sun and take a refreshing dip in the inviting waters of the Atlantic Ocean. The beach's location on the wind-protected side of Table Mountain offers relatively calm conditions, perfect for swimming, paddleboarding, and other water activities. Settle down on your beach towel or rent a sunbed for ultimate comfort as you soak up the sun's rays.
Beach Volleyball and Socializing: Camps Bay Beach is a popular spot for beach volleyball enthusiasts. Join a game or simply watch the action unfold as players compete in the sand. The beach's lively atmosphere also makes it an excellent place to socialize and meet fellow beachgoers from all corners of the world.
Sunset Splendor: Prepare to be mesmerized by the stunning sunsets that grace Camps Bay Beach. As the sun descends behind the Twelve Apostles, the sky is painted in a kaleidoscope of colors, casting a golden glow over the beach and the Atlantic Ocean. Capture this magical moment and create lasting memories of Cape Town's spectacular sunsets.
Outdoor Fitness and Yoga: For those seeking an active beach experience, Camps Bay offers a range of outdoor fitness activities and yoga classes. Join a beach boot camp, practice yoga asanas with the soothing sound of the ocean in the background, or take a leisurely jog along the palm-fringed promenade.
Proximity to Nature and Hiking Trails: Camps Bay Beach is located in close proximity to the Table Mountain National Park, offering easy access to a network of hiking trails. Embark on a scenic hike along the slopes of the Twelve Apostles or venture further to explore the iconic Table Mountain itself. These trails provide an opportunity to immerse yourself in nature and soak up even more of Cape Town's breathtaking beauty.
Conclusion:
Camps Bay Beach captures the essence of coastal splendor, combining natural beauty, trendy beachfront ambiance, and a lively atmosphere. Whether you're seeking relaxation, entertainment, or outdoor adventure, Camps Bay Beach has it all. So, embrace the beauty at the foot of the Twelve Apostles and indulge in a memorable beach experience that will leave you longing to return.